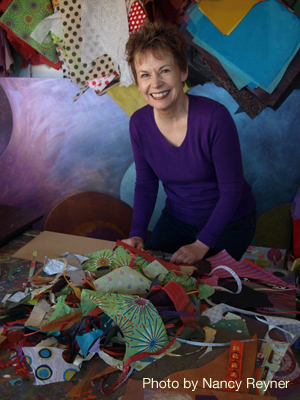 Patricia Forbes is an abstract artist living in Albuquerque, New Mexico. Working with acrylic paint, specialty papers and textured surfaces, she delights in creating works to engage the viewer and share her artistic experience.

Patricia remarks:
As a contemporary abstract artist, I am interested both in the Outer World of materials - paint, paper and texture, and, at the same time, in the Inner World of inspiration and guidance.

I begin with a smooth, flat surface. Next I choose a texture...perhaps a large and swirling one with deep combing, a very fine surface with shallow combing, or one with rough scribbles and random marks. I may choose a grainy texture or a smooth texture.

This is where my inspiration and guidance come into play. My texture guides me into the most complex and exciting parts of my process. Adding metallic paints creates changing patterns of light reflecting across the surface.

Next I turn to my collection of specialty papers varying in transparency, color, texture and pattern. The work at this stage informs the selection of the papers. The real challenge and fun begins as I experiment with cut shapes, colors, patterns and opacity – observing how they harmonize and enliven the work. Throughout, I am experiencing the work as it evolves.

When I have created a joyfulness and vibrancy in the work, I know I have created an experience I wish to share.